Mark and I have a photo shoot coming up (no, we're not models, and no, we're not announcing anything) and I CANNOT decide what to wear! We are having them done at a nature preserve in Plano so it will (hopefully) be perfect timing for fall leaves and grasses.
Y'all. I don't know what to wear. I'm in a struggle to look fall-ish, skinny, shorter than Mark, fun, and pretty. Turns out my day-to-day wardrobe doesn't check all of those boxes! Do I dress like a slob!?
Anyway, I'm trying to mix all of that with something I feel comfortable in. That typically means jeans, boots, stripes, and a scarf. Like I said, I don't think ALL horizontal stripes make you look fat! I was on the hunt for a striped tunic and I splurged for this one (on sale!) from Anthropologie: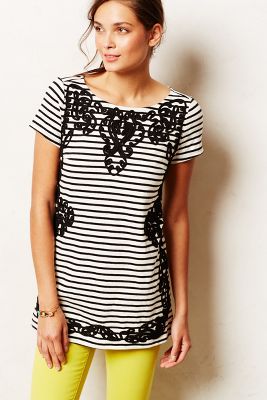 I'm still not sure I'll wear it. I have some back up ideas, but I don't know! Most of them are hinged around these boots that I want to wear:
Unfortunately they are out of stock, but I love them! I wrote about buying them here.
These are really similar AND in stock!
Anyway, I have no ideaaaa what to wear. Anyone have some tips?!
Mark's outfit is pretty easy: some dark jeans, Sperry's, and a plaid shirt. We have mixed feelings about the dark jeans he typically wears (from Gap) so we went on a little shopping trip a few weekends ago and picked up these. They are really nice! Mark is super picky about the fading and the fit and these were perfect:
We got the slim straight style and they look really good on Mark. They are on sale right now AND we got cash back by purchasing them online through Ebates! It's a cash-back program that simply pays you for shopping online.
I first heard about Ebates as long as 3 years ago through another blogger, but I didn't pay much attention because I figured there must be a catch. You guys - there isn't! It's simple:
-log in, search for whichever store you'd like to visit
-click the cash back percentage link that takes you to your desired store's web page
-shop and make your purchase as usual
-wait about 48 hours for your purchase to go through and watch your cash back pile up in your account!
Ebates is a major bonus for me : I do about 90% of my Christmas shopping online and I signed up for this just in time to take full advantage of it. I've been a user for about a month and not only did I get a $10 Target gift card for signing up, but I've already got my first check (a little over $20) and I'm still racking up the points. This is a great tool if you shop online and want to make money doing so! Seriously you guys, there is no catch, it's free money!
Here's another blogger's take on the benefits of Ebates!
Even though my spirits are dampened for my outfit, I know Mark will look awesome and I am happy to score a deal and have a little shopping money piling up while doing so. Go sign up for Ebates ASAP!
This post includes a referral link so I may benefit from your participation. :)