Here we are at day 16! We're already halfway through blogtober and I've only cheated twice.
Today's prompt is 'fall fashion'.
Now y'all, I am NOT a fashion blogger. I like feeling comfortable and being semi-updated on trends as well as trying to do my body type justice when getting dressed in the morning. That's about it. I rarely buy any of my clothes full price (with the exception of Target) and do my best to layer what I already have to make it through the seasons.
I didn't know for sure if I was going to do this prompt today, but we were hit with some AWESOME drizzly fall weather last weekend and I really liked my super trend-forward outfit so I snapped a few pics to share as my 'fall fashion'.
This 'blogger scarf' is EVERYWHERE. It was sold at Zara last year but word on the street was that they aren't bringing it back this year. Luckily, I found it on amazon for a pretty good deal and I snatched it up. I was a little worried it was a knockoff and would therefore be super cheap quality, but you guys, it's AWESOME. It's thick and warm and basically a blanket. I love it!
I have approximately 15 striped shirts. I don't know what it is, but I love them! I'm glad we finally got over the myth that horizontal stripes make you look fat. Am I right? #stripesforlife
So this is the one in the picture. I snagged it here online a couple weeks ago and I can guarantee you it's going to be a go-to from here on out. It's long enough for leggings!!!
Anyway, I found
these at Target
a couple weeks ago and bought the red/blue striped one, wore it to work, got compliments, and my coworkers went out and bought some. So then, naturally, I went back at lunch and got the black and white one. :)
They have it in solids, too
, and it's THE MOST COMFORTABLE SHIRT EVER. Seriously, y'all! (I'm wearing the black and white one today!!!)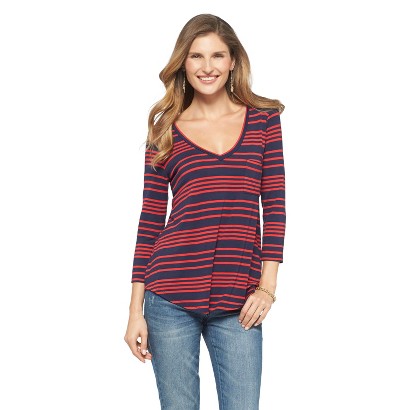 I was WAY behind on the military jacket thing. I'm totally not a jacket or coat person, and I usually make it halfway through December before I decide to ditch the coat and just run to beat the cold anywhere I go. I hate carrying around bulky things! Well anyway, I found this jacket at Target and picked it up. I've been really happy with it! I love the drawstring waist, collar that stands up by itself (with a hoodie inside should you want one), and roll up sleeves. It's super light and I wear it as a layer most of the time, but it also works nicely as a wind block. I suggest you grab one!
I've been super surprised with these jeans. I picked them up at H&M a couple of years ago for $20 and although I was a little worried at first because they were so stiff, they have proven to be my favorite jeans! I love the wash, the way they cuff, and I feel like they make me look a teensy bit skinner than I really am. Isn't that the best?!
My shoes. Ohhh how I love these shoes. I could wear them every day. I originally bought the first version of these Steve Madden leopard wedges in 2012 for my wedding. Yep, I wore leopard shoes at my wedding and I loved it. I saved them for that special day and started wearing them regularly after that. They wore out in about 9 months, but you guys, I wore them a LOT! I'm also not known for taking great care of my things, so add at least another 9 months onto that if you're better than me! I freaked out when I found them again, with slight modifications, about a year later. My size sold out quickly at Nordstrom so I grabbed them quickly at Dillard's and have been wearing them often since! They are my fave. They don't have them in leopard anymore at Nordstrom but they have a ton of other colors and they are super cute!!!
So that's my fall fashion! Surprising, since we don't get much of a 'fall' in Texas. Happy shopping, friends!