We've made it to Wednesday!
Mark and I capped off our Target Tuesday by making the drive up to McKinney for our brother-in-law Dave's birthday party at the country club pool. The drive at rush hour made me pretty happy that we won't have to make that drive many more times because we will be about 20 miles closer at the new place! (We haven't moved our things over to the new place yet, so we are still living at our apartment in Oak Cliff.) The weather was actually great and it was a nice evening by the pool. It was still hot, don't get me wrong, but there was a breeze and shade so I don't think I even broke a sweat!
Here is our nephew Luke and his friend Kensington with Andrea in the foreground. This was post-popsicle. :)
We made our way over to Andrea's house and then, later, Mark's parents house and got to visit a bit more. I barely got to hold sweet baby Griffin but when I did I was rocking her to sleep, so it was a precious moment.
We made it back to the house around 11pm and went straight to bed! I don't think I've been able to make up for the exhaustion that came from this weekend, but at least I'm not sore anymore!
So back to the new house news... I told Mark that my readers had "voted" (via Facebook and Instagram) for him to write a post, so I coerced him into dictating his instructions for mounting our house numbers while driving up to McKinney. See?
I had been holding off on buying our house numbers until after we closed on the house because I was extremely worried that I would jinx the whole deal by committing too soon. So, as soon as we closed, I ran to Lowe's and bought the numbers that I had my eye on. They were $5.98 each, which I thought was fine because after doing my research I found that that was the average price for house numbers. Here are the numbers I selected, in the black finish. (They also came in silver and bronze)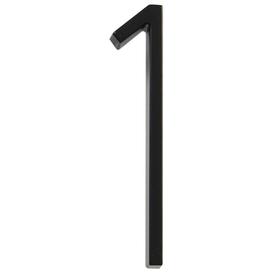 I knew I wanted to change the numbers because the original numbers were the typical skinny black old-fashioned numbers. I wouldn't be surprised if they were from the 1960's, when the home was built. So, I instructed Mark to hang the numbers, which I guess we can call his first official 'project' at the house. While this isn't really a guest post by Mark, it is his words, so I'll take it for now, until I can convince him to REALLY write a guest post! Here it is:
Diana asked me to hang these numbers on our new house. First, I had to remove the old numbers. I had to borrow my dad's ladder, of course. (insert Diana making a short joke here) The original numbers were very thin and old style numbers that were nailed in. I had to pry them off with a screwdriver and break a couple of the numbers in order to remove the nails. I then noticed that the trim behind the numbers was discolored so I cleaned off the cobwebs and dirt and found the original paint color in our garage, kindly left behind by the previous owners. I sanded down the uneven spots on the trim and painted the discolored areas.
The numbers that Diana had bought included a template to space the numbers before hanging them. I lined them up in the general area that the original numbers had been and called Diana to come approve the layout. I used a 1/8" drill bit and drilled pilot holes as marked on the templates. After confirming everything would work when installed, I then used a 1/4" drill bit and drilled the 'real' holes, but not as deep as the pilot holes. I skipped the recommended caulking portion because I estimated that the numbers would fit perfectly and would not need the caulking step. Diana told me she wanted the numbers to be 'floating', so I used the correct screws to accommodate that feature (they came with the numbers) and simply hand-screwed those into the trim and attached the numbers. That's it!
Thanks to my sweet hubby Mark for explaining that all to us. I really wish there weren't bad people in the world and I could show you all of his handiwork, but there are and I had to edit my photos. The numbers are just what I wanted though and I swoon at them every time I see them.
I'm thankful for a helpful husband and another project crossed off the list!