Ok, in essence I only missed one day, but I've felt super out of it lately so I feel like I've been MIA from this here blog all week! I'm still loopy and recovering from 48+ straight hours of work mode, but I wanted to stop in and give a non-sponsored review of the hotel we always stay in when we are visiting Las Vegas on business.
This last trip was my third trip to Las Vegas for business. One of our client's homes is in south Las Vegas and we have meetings every two months. My boss and I fly out there for our two day meetings and make the best of our time there.
Each time we have visited, we have stayed at the Mandarin Oriental. Our client (who is in the hotel business) recommended this hotel to my boss when she first came on to the project and we have stayed there ever since.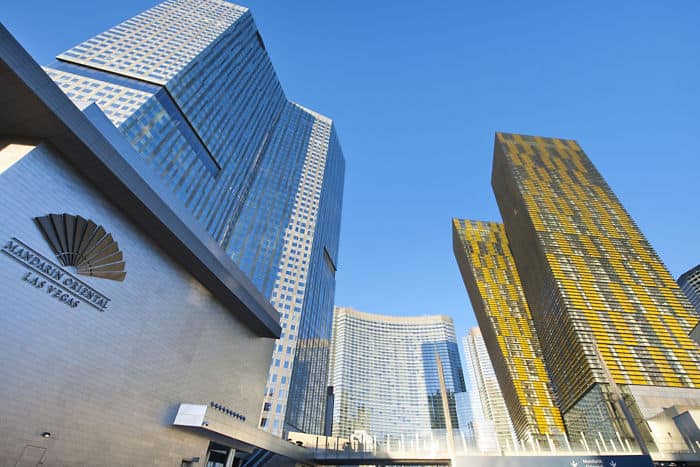 Since I've only been to Vegas on business, I think this is the perfect place to stay (plus, everything is expensed! :) ) The great thing about the Mandarin is that it is one of few hotels in Las Vegas without any sort of casino. Yes, to me that is a PLUS, even when in Vegas. When you enter, there is a small lobby that is typically unmanned other than the valet and bellhops outside. There are three elevators, with only three options: lower level lobby, mozen bistro, and sky lobby and lounge.
They have done this so they don't get a lot of traffic from tourists looking for another casino, and for the security and privacy of their guests. To check in, you go to the 23rd floor, which also houses the lounge, bar, and one of the restaurants. there is an awesome view of the strip in all areas mentioned above.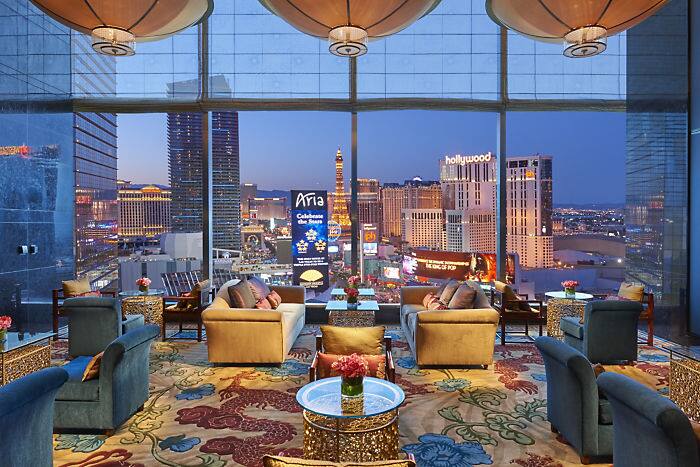 The staff at the front desk are seriously the nicest people. They have greeted me by name before and they know what your schedule is and never seem to be rushed or in a bad mood. They provide a drink if you want one and also a cold towel and cold tea while you wait for them to check you in, which only takes a few minutes. They have been extensively trained in customer service and it shows. They do this thing where they hand you your key card or any paperwork with both hands. It's obvious that they are intent on serving the customer first, at all costs.
It is super relaxing to head up to the lounge to relax and unwind after our long meetings in the Las Vegas heat. There is just something about the invigorating skyline that makes you let go of the stress of the day. That's what Vegas does, I guess!
In order to get to your room, you have to take a different set of elevators down and use your key card to activate the panel and be able to access your floor. The great staff, as mentioned above, always walk you to the elevators and explain how they work.
The entire hotel has very modern finishes and furniture but also brings in an eastern design influence in the art and sometimes wallpaper and accessories. The music throughout the hotel is very 'Zen-like', which makes you relax even before you get to your room.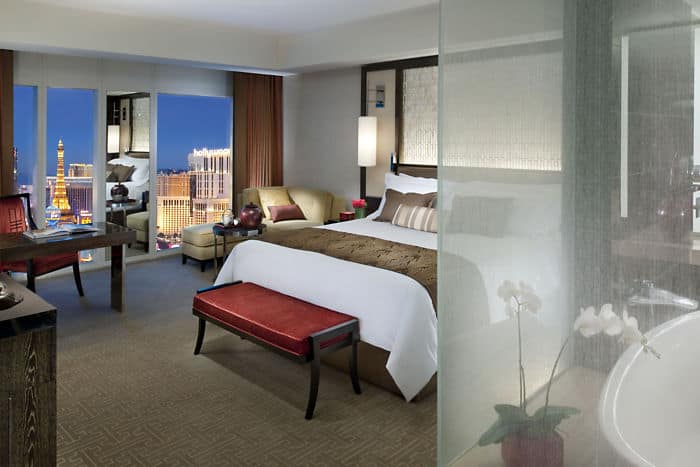 My boss and I typically stay in a room that looks like this. Usually we are on floor 18 or higher, except this time, when I was on the 4th floor in an accessible room. It still provided great views, as you can see on my Instagram. The Magic convention was this weekend, so it was pretty busy, which is why I had a different room, I think.
I cannot say enough about the rooms at this hotel. When you first enter your room, the zen music starts playing and the black-out curtains and sheers automatically open to reveal your view. The lighting is perfect, and it makes such a first impression! Along with the entry, everything can be controlled by either the Lutron switches on the walls, your flat screen TV, or the touch screen alarm clock on the end table. By everything, I mean the lights, TV, music, temperature, curtains, alarm clock, and any hotel services. It is awesome to be able to get in bed and turn off all of the lights, close the curtains, and change the temperature. Also, I love the alarm feature here. I hate getting up in the morning and I usually use my iPhone alarm. I actually look forward to staying here because I can set the alarm to turn the temperature up (I can't stand a hot bed!), turn the TV on to whatever station I want, and open the curtains at whatever time I want. I seriously told Mark this was a feature we should consider in a future home! I end up getting up earlier (never mind the time difference) in Las Vegas just because with the curtains wide open, I can't sleep any longer! It's a great feature!
The room is also well equipped. They have thought of everything and nothing is an extra cost, except for the typical mini bar or snacks. They provide slippers, robes, a blow dryer and flat iron (!!!), all of the typical shampoo and soap items plus a shaving kit, sewing kit, shower cap, toothbrush and toothpaste, bath salts (not the kind that can kill you), and always at least 3 pieces of fruit upon arrival (apples, pears, etc). The hotel thinks of everything!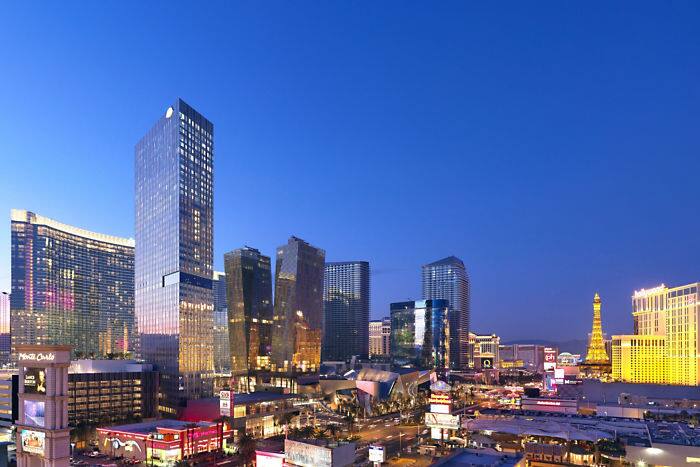 I haven't had time to use the pool or spa, but it is tempting every time I'm there.
When you check out, they make the process quick and simple. They always offer to print your air itinerary or help with anything else that you can imagine. As you exit the hotel, there is always a valet attendant to get you a car, a cab, or your transportation of choice, and they are just as nice and friendly as the front desk staff.
I can't say enough good things about this hotel. Granted, it is a high end hotel and the cost will be more. But if you want to visit Las Vegas or their other American locations in Atlanta, Boston, Miami, New York, San Francisco, or Washington D.C., I highly suggest you try the Mandarin for a no-stress and extremely comfortable hotel stay.
Also, check out these pictures I snapped from our trip:
The lights in the 'tea lounge' are seriously gorgeous, they almost distract you from the awesome view!
This super awesome gold and black 3D wall welcomes you as you get off the main elevators.
A night-time view of what I thought was the Cosmopolitan, but I think these are residences.
A typical Vegas view of Paris, Planet Hollywood, and the Louis Vuitton store.
This is the view looking south from our client's home.
Another southern view from the home.
Upon my arrival, a shot of the view from my room-including a selfie in the integrated mirror!
Let me know if you've been to the Mandarin and if your experience was the same!