We have a BUSY few months ahead of us. I have enjoyed the last month + of relatively quiet weekends. It used to be rare that we would go more than one week without having some sort of event or function to attend, or even just pre-made plans. Mark has definitely brought out the homebody in me. I can't say that I hate it, either!
Like I've said, we've been keeping it low key. That's why I'm a little anxious about these next few months, because we have travel plans back to back for almost two solid months. Eeek! I'm feeling both super excited about the adventures to come and also super nervous about going week to week without any downtime at home. Let's go ahead and focus on the fun, though, as I share more about our travel plans!
Eisenhower State Park, Denison, Texas
: My family likes to "camp" a lot, and they planned their latest trip to this park just north of where we live. Mark and I are making the day trip to hang out, hike, and hopefully do some boating. We decided not to camp overnight because A) it's August in Texas, B) my family camps in pop-up trailers and makes the trip a little less authentic for us, C) as fun as the weekend can be, it leaves you exhausted at the end and you have to go straight back to work on Monday and D) it's August in Texas.
Fredericksburg, Texas
- I already shared a bit about this sweet little town
here
, but as the days are approaching I'm getting so excited about our girls' trip! We don't have much planned at all, which really tends to make the best trips. There are a few 'must-see's on our list, but mostly I think we will enjoy each other's company and make the best of this little weekend away in the hill country.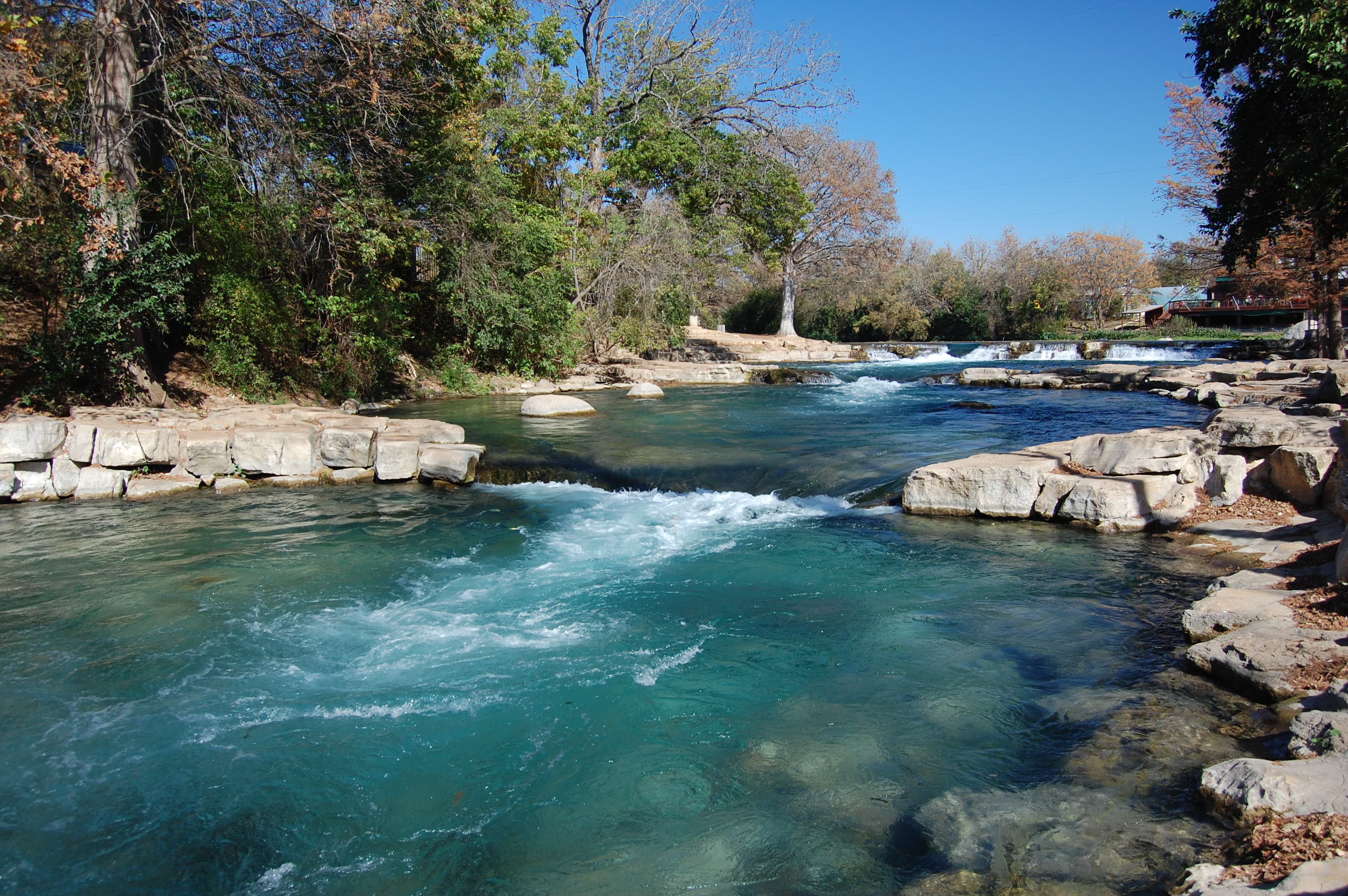 San Marcos, Texas
- Just a ways down the road from Fredericksburg is San Marcos, the home of Texas State University as well as Mark's friend Justin and his wife Callie. They are a super fun couple that we don't get to see enough so we are taking advantage of a free weekend and making the trip to see them! They are graciously providing their house for us and I'm excited about the possibility of country music and floating the river. Although, I've never seen the river look quite as awesome as the picture above!
Dallas, Texas -
Okay, I know this is kind of a cop out, since I have lived and currently work in this great city, but my girlfriends are coming up for a weekend and that typically means gallivanting through town and discovering lots of fun things to keep us busy. I'm not sure exactly what's on the agenda yet, but it's sure to be a good time!!!
Broken Bow, Oklahoma
- While I'm gallivanting with the girls, Mark will be doing the same thing with the guys, but maybe with less giggling. This is his fourth trip to the cabin in Broken Bow with his coworkers, who have instilled an annual guys' weekend to do all things 'manly'. There is lots of meat, lots of smells (gross) and lots of goofing off. We will both end the weekend exhausted!
Oxnard, California

-

I

wrote about this trip

before, too, but it will be the one to round out the back to back string of traveling. It's a good thing, too, since it will be the longest trip and hopefully the most relaxing! We have two excursions booked and the rest of the time will be spent exploring, laying by the pool/beach, and enjoying the beautiful California weather. Can't wait!



Lubbock, Texas
- Okay. I am seriously super excited about this. Like, embarrassingly SUPER excited. I don't know what it is, but my college town makes me so happy and (don't tell Mark) but I could probably totally live there. It's not as small as some might think, it's one quarter of a million in population, but it reads as a small town. I just love it, I really do. I'm roadtripping with my Australian friend Jayde and it's the first time she will be west of Weatherford. I'm SO excited to show her the place that is such a big part of me, and we are meeting up with our mutual friend Jody, who was my college roommate and just moved back to Amarillo from Dallas. SOOOO excited!!!!
That's all that has been planned so far to finish out 2014, but I'm sure some smaller things will come up closer to the end of the year. Football season starts soon, though, and
you know how busy that keeps me!
It will be fall before we know it!
Happy travels! ;)